Proper Standard Security Guard Uniforms: The Use of Plastic Whistles, Police Belt Accessories and More
Last updated Aug 18, 2020
Security guards and police officers both carry jobs of authority, but the role and responsibility in each job is quite different. Because of these differences, the standard proper uniform worn by a security guard is much different than that of a police officer.
Security officers will not maintain the same police belt accessories, they do not wear dress blues, they tend to carry plastic whistles over a metal police whistle, and their job is often less strenuous when compared to officers of the law.
However, as professionals, security guards are still expected to present themselves in an upright fashion. Their job can be and usually is very important to those that hire them. Although such trappings as a police belt buckle, military belt buckles, or an IAFF (International Association of FireFighters) buckle will not be a required part of the standard security guard uniform in many situations, there are other accessories a security officer will wear to showcase their authority and respectability.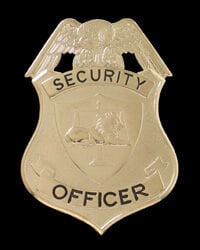 Quite often security guards will be skilled men and women that have served their community in one capacity or another in the past. The move from an armed police officer is not a demotion, it is usually a conscious choice to keep serving the community in a different capacity.
Security guard attire tends to differ from one job to another, as a security guard at a local club, also known as a bouncer, will not typically be given the same standards for their uniform as a security guard for a bank. Whether or not a security guard is provided a weapon as part of their job also varies from position to position, and can have an impact on the uniform.
Typically a security guard is expected to look and act professionally and adhere to the uniform guidelines as set down by their employer, but there are a few key components a security officer can expect to wear or maintain as part of their position no matter where they are hired:
Pants, Minus the Police Belt Buckle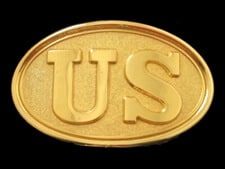 A security guard's pants are usually expected to be pressed, not wrinkled, and are often purchased by the employee. Pants are one part of the attire that needs to be loose but not baggy on the off chance that the security guard will find the need to move quickly without worrying about limited mobility. Comfort is key, and a security guard will often find a standard, plain belt suffices over the more elaborate police belt buckles worn by officers.
Most security guard jobs will restrict what kind of shoes a security guard can wear, due to the nature of their job to be able to move quickly and with stable feet. The normal, desired footwear for security jobs are typically functional dress shoes with black rubber soles. In a club setting, some employers might allow for dark-colored sneakers with black soles. Again, this is another part of the uniform that needs to be comfortable as well as functional to maximize efficiency.
Shirt with a Police Whistle and Chain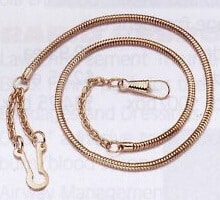 Most employers will provide one to two shirts for their security guards, as shirts are often custom-made and produced for the company specifically from a distributor. For many security jobs, a button-down shirt and tie are required as part of the uniform, while in a club or relaxed setting a polo shirt might be the answer. Security officers may also find themselves having a police whistle with a chain to wear overtop of their shirt, to help maintain control and get the attention of the people in their vicinity when needed.
Badges, Police Whistles, and Police/IAFF Belt Buckles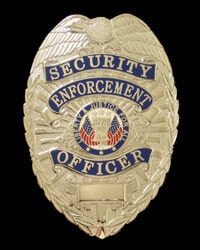 Badges are a conditional thing that varies with each security job: some jobs don't use them, some companies have them added as a logo to their company shirts, and some positions issue actual badges. For those entering the security business who have their own medals from a previous career, it's best to leave the previous badges at home in a medal box or a badge display case, as too many badges or awards can cause confusion in a security position.
The question of whether a police belt buckle, an IAFF belt buckle, or military belt buckles are allowed to be used with the standard security guard uniform is likely up to the employer, though it would be typical if many places of employment said no to this type of ornamentation. Anything that has little to do with the requested uniform, be it a badge from a former position to a pin or medallion for a shooting award earned while on the job, is not allowed to be worn while on duty.
Standard Security Guard/Police Belt Accessories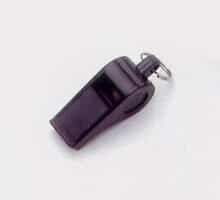 The weapons and accessories assigned to a position affect the police belt accessories, plastic whistles issued, and more for a security guard. Unless a security guard works in a location and is assigned to guard items that are considered highly valuable, it's not likely that they will be issued a gun to carry. A plastic whistle is standard on more jobs, along with a flashlight and a taser. But many other weapons and items that might otherwise be found as police belt accessories will not typically be employed by security guards. A police whistle with a chain may be okay, but a gold whistle chain is something that's granted at retirement and is often seen as slightly ostentatious while on the clock.
The uniform, whatever it might be, is expected to be cleaned, ironed, polished, and otherwise kept neat and tidy as it represents the authoritative position and the company the security guard belongs to. In other words, a security officer represents their company and they are expected to look neat, trimmed, and professional. This will also help to command respect from the people the security officer is overseeing as part of the position.
It's often wise to iron the uniform ahead of time and hang it up, out of the way where it won't develop any wrinkles. A quick toss in the dryer with a damp towel can take out any wrinkles: this is a neat trick to use when pressed for time and in need of a quick way to remove wrinkles from the uniform.
As for gear, keep it neat and keep it clean. Even if all a security guard has is a plastic whistle or a police whistle on a chain, maintaining all parts of the uniform is vital in order to look professional and show a bit of pride in the work.
Personal Hygiene Rounds off the Uniform
Personal hygiene is not dependent on the job since every employer tends to require their employees to practice good hygiene standards as it promotes the security guard's health and safety and makes them otherwise pleasant to be around. While many companies preach about health and hygiene standards it's wise to adhere to the required health standards as a security guard to help command respect. Just as a security officer keeps their shooting awards clean and displayed proudly in their medal case, they want to present themselves in the same way while in uniform and on the job.
The role of a security guard is quite often taken for granted as it is a job that is assumed can be performed by just about anyone, but it is a role of respectability and authority. By taking pride in appearance and adhering to uniform standards that are set by the hiring company, security officers can represent themselves as important aspects of the company they work for.
The role of a security guard is an important one no matter where a person works, which means that the uniform speaks volumes about how you as an individual view your job. The more professional you look, the more pride you can take in your work.