The Irvin H. Hahn Company has been known to create an incredible range of police badges and hardware since 1898. For over 100 years now, it has carved a niche by offering finely designed badges and insignia to servicemen and women across federal agencies. It is a hallmark of excellence and is regarded as one of the finest uniform hardware stores in America.
Our range of products includes uniform hardware, Blackinton badges, name badges, custom badges, collar brass, collar insignia, rank insignia, nameplates, etc., having a widespread local and national client base. You can now order your badges and other hardware online, sitting comfortably in any part of America.
Federal agencies often expect precision when they acquire uniforms, badges, and other accessories. We are here to offer the best quality in every piece of equipment. Our manufacturing team handpicks the best materials to design these. For us, maintaining the highest standard is a mandate.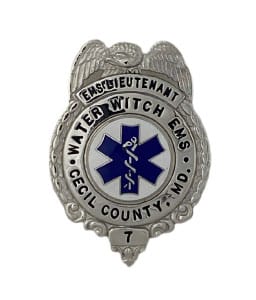 The Benchmark Company For United States Police Uniform
When you think of a benchmark for designing United States Uniform, Irvin H. Hahn is your go-to store. In our cloisonné enameling process, we use a colored glass fired at 1500 degrees. As a result of this, what you get is long-lasting equipment that stands the test of various weather conditions and frequent usage. Police uniform accessories demand excellent craftsmanship. Our products live up to the expectations of service people and stand out as the best.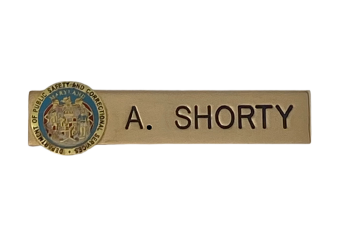 American Service Department's Trusted Online Badge Maker
One can order commemorative badges, nameplates, buckles, challenge coins, belt buckles, cap devices, and other insignia for emergency responders. The outstanding arrays of products we offer have been acquired by police departments, fire departments, and federal agencies. All our products are testimony of incredible craftsmanship. Our company is an experienced American manufacturer of these items. You can also use our online badge maker to design your custom badges online.
The fasteners and applied panels we offer come with a Lifetime Warranty against manufacturing defects. Under normal situations of wear and tear, all the damages of the products are covered within the scheme.
With Irvin H. Hahn, you can view the online catalog and use it conveniently to place your orders. You have the option of customization and put personalized lettering on nameplates, fastener, plating finish, and center seal for your badges. Other accessories that we offer include whistles, gold whistle chains, leather belts for men, insignia, awards, etc. We take pride in being a one-stop destination for all kinds of uniform hardware and other accessories. The easy-to-use portal makes it convenient for clients to place their orders. Our online store has been created for your ease, and we are ready to serve you with remarkable products.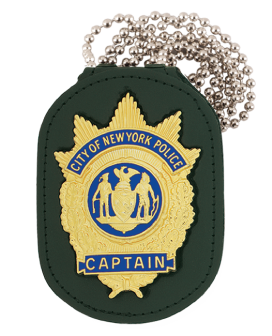 American Badge Company For All Your Needs
As a dedicated uniform badge maker, we offer top-notch badges and uniform bars. We also have an extensive range of nameplate finishes. Whether you are looking for a rhodium plating with a layer of nickel finish or you're looking for an amazing gold plating over raw brass material, everything in our store comes with a protective layer and lasts longer than other equipment available in the market. You can also opt for Hamilton Gold with a layer of the nickel finish. The finishes we offer are dual-toned. You can get a rhodium panel with a Hamilton gold center badge or a Hamilton gold panel with a rhodium center badge. The other options you can go for are non-precious metals, Hanco-G, or Hanco-S. These are not plated, come with a protective layer, and are thoroughly polished. Since your uniform and nameplates represent power and dignity, we put an outstanding workforce to create this wonderful equipment for you. Ordering products from us means that you join hands with an experienced name badge maker.
Your Go-To Uniform Store In Baltimore
We have always been known for our unmatched products. Our products are in demand because of exceptional finishes, easy customization, and reasonable prices. When we make uniforms and other accessories for you, we put in every effort to achieve flawless results.
Our objective is to ensure comfort when you wear the uniform we make and to see that all our products have the best possible finish. If you are content with what we offer, then our reputation is intact as a sought-after uniform hardware and equipment store in Baltimore.
As a committed uniform store, our legacy of 100 years is an achievement in itself. The workforce we have in our store possesses the required expertise and experience to create uniforms that define you. As a service person, you must take pride in your uniform, and we just facilitate that process for you.
We are glad to have emerged as your go-to uniform store in Baltimore. With the trust and support that you have expressed, we constantly seek to be better every passing year. For the highest quality uniform, badges, accessories, and all other items, our store is your safe zone. Explore the wide collection of products that we offer and see what suits your requirement.